Getting married in Mallorca is already a different option but why just stop there? There are small local touches here and there that can help give your wedding a unique flavour.
The Food
Let's start with the obvious one, the food. Serving tapas or paella is great but there are also other dishes that you can serve that are exclusive to this island. For example, why not serve 'Dorada a la mallorquina'? It's sea bream fish roasted on a base of potato, onions, pine nuts, tomatoes and raisins. If you're not a fan of fish you can always try serving the typical Mallorcan suckling pig, which is absolutely delicious.
For those who prefer only adding small touches, why not add a couple of Mallorcan touches to the canapés such as sobrassada or local cheese? Guests always appreciate a late night snack after a few hours spent on the dance floor, why not also get them to try some local food such as a 'pamboli' (a simple yet satisfying dish consisting of Mallorcan bread, cheese and cold cuts) or for those with a sweet tooth a selection on 'ensaïmadas' and 'coques' (sweet pastries)?
The Drink
This is a great idea for wine aficionados getting married in Mallorca. The island has a long history of wine making and it has been building its reputation for the last couple of years. There are countless bodegas producing great quality wine on the island, so you will be spoilt for choice. Our favourites are anything produced by Ribas or Ànima Negra.
If you are not crazy about wine, try serving freshly squeezed Mallorcan orange juice or  homemade lemonade made with local lemons as your welcome drink. Beer aficionados  can opt for serving local beers or if you are more of a G&T person there are also some great local gins available.
The Decor
There are many great ideas in terms of decoration when it comes to adding a little Mallorcan spirit. Olive sprigs are a must if you want to get that Mediterranean feel, you can incorporate them into your bouquet and centrepieces, or even use them as confetti . The island is also really well known for its delicious oranges and lemons, so including those in your decor will not only add a rustic feel to the wedding but also give it a Mallorcan touch. Centrepieces are the most popular, but you can also use them as pew ends, name cards or even just to decorate an empty space placed in wooden boxes, sacks or Mallorcan baskets.
You can also include other local elements into the decor such as tablecloths or lighting. Mallorca is well know for its gorgeous Batik style fabrics, locally know as 'Tela de llengos' (Tongue fabric). The bright colours of the fabric are perfect for a summer wedding and will definitely liven up your tables. Whether you go for a a full tablecloth or just a runner, your tables will look fantastic.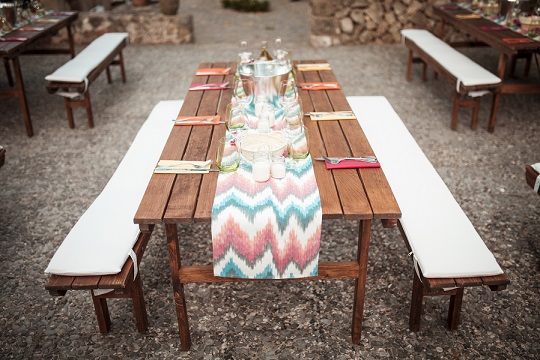 For the evening, why not brighten up your chill out area with traditional Mallorcan glass urns? They come in all different shapes and sizes and they look great in the dark when you put some battery powered fairylights inside.
The Favours
Another great way of including the island within your weddings is gifting your guests a small souvenir from the island. The options are endless: flavoured local salts, 'hierbas' (digestif liqueur made with local herbs), local jams and honey, flavoured roasted almonds, olive oil…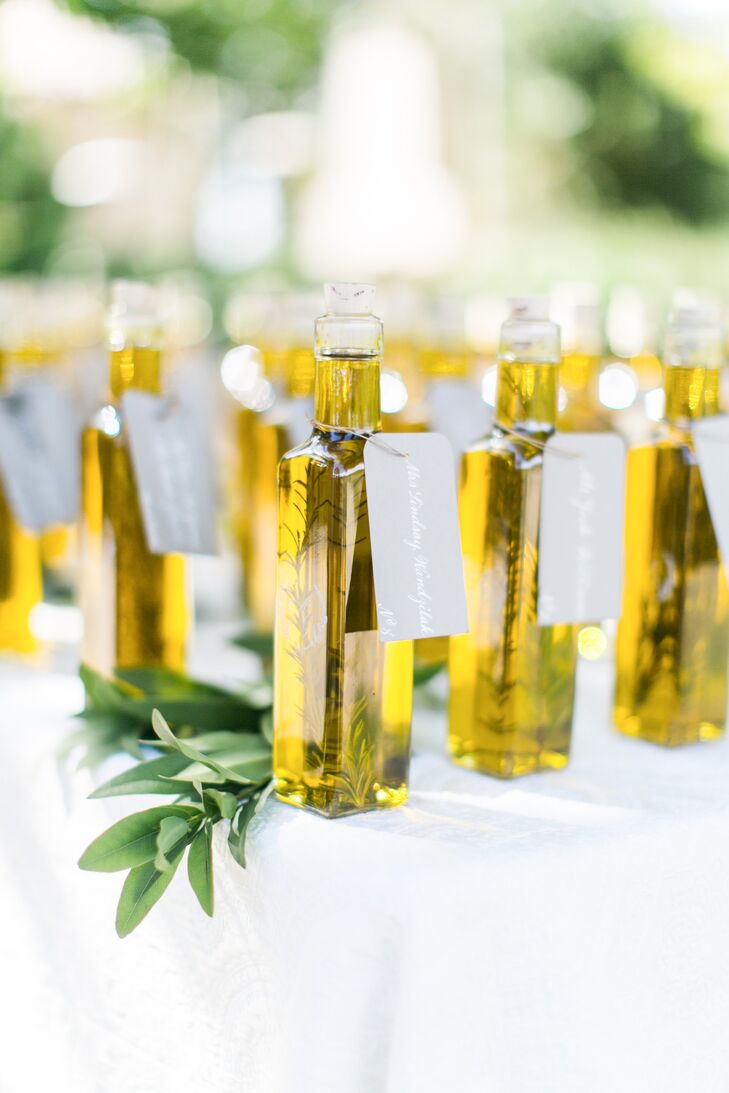 Those couple who would rather give out non edible gifts can opt for local clay pots or plates, tablecloths or napkins, almond blossom soap or perfume, or even espadrilles which the ladies will certainly appreciate after a few hours on high heels!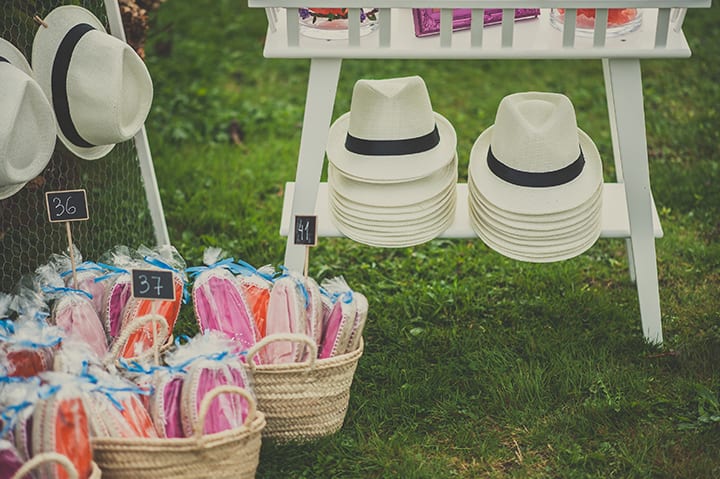 The Fashion
You're getting married on a beautiful Mediterranean island, why not give yourself a summer Mediterranean look? You can add a small detail to your look such as creating a stunning flower crown incorporating olive sprig into the mix or add a bigger touch such as wearing high heeled espadrilles to complete your wedding look.
For further information about our wedding planning services please contact info@l-events.es or call +34 871 034 951.